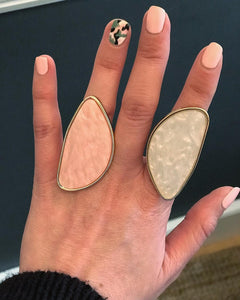 Imitation mother of pearl ring.
Price includes p&p in mainland UK.
PRODUCT CARE
 
With proper care, your jewels will retain its beauty and character. 
 
The jewellery can tarnish and it's natural that the plated pieces lose their color. If they are exposed to salt air and products containing sulfur, such as rubber bands and some papers, this process can be accelerated.

Avoid exposing plated jewellery to household products, perfumes, water, tanning products, which will quickly cause them to discolour.
Jewellery storage is important as well. Between wearing, we recommend that you place it in a suitably lined box or pouch. Do not leave them in a humid room.

Frequently clean your Nell and Digby pieces with a clean and soft tissue.
And please don't forget sometimes your skin pH can intensify the changes in plated jewellery.